May, 2017
College Credit
College Credit
Summer Semester Fun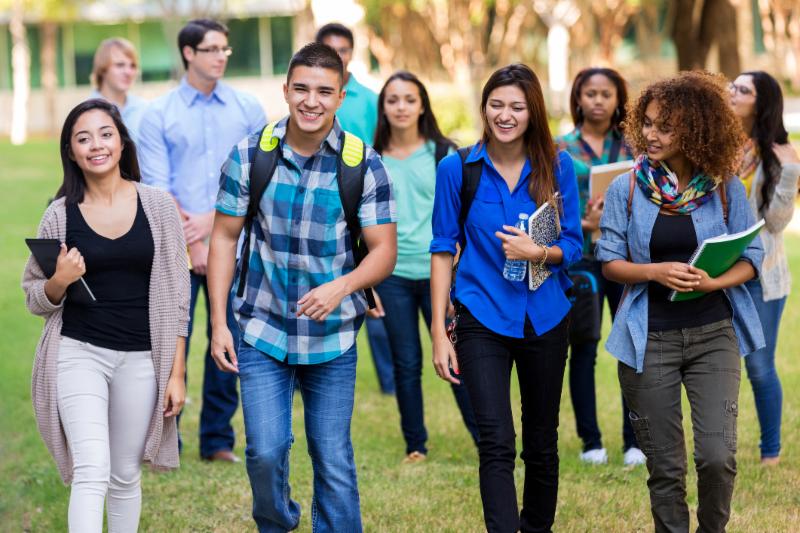 Tags: summer semester, summer fun, college summer fun, studying fun

Here's a real brainteaser for you: Flip-flops, sunscreen, iced coffees and textbooks - which of these is not like the others?

If you're one of the thousands of college students staying on for the summer semester, this assortment may accurately describe your summer plans.

It's great that you're choosing the summer months to catch up with or get ahead of your schoolwork. But is there a way to keep on top of your studies while still making time for some much-needed fun in the sun?
You bet there is! Here's how:

1.) Study outdoors

Yes, you'll need to spend lots of time buried in your textbooks this summer. No, that doesn't mean you need to be cooped up indoors while the rest of the world is enjoying the sunshine. Grab your books and some friends to initiate a study session at an outdoor cafe, a grassy park, a scenic waterfront or even the beach. Bring sunglasses, cold drinks, a good set of notes and your best highlighter. Then, get your work done while still enjoying summer!

2.) Hike and learn

Hiking is a fantastic way to stay in shape and have some outdoor fun. But, did you know it can also be a great time to study? It's true - all you need is a pair of earbuds! Plug into a recorded lecture you'd love to review or even an online video that offers more information on a subject you're studying and hit the trails. You'll absorb information while giving yourself a physical challenge and getting lots of fresh air.

3.) Make the most of weekends

Even the busiest student has some free time. Instead of crashing, plan those spare hours well. Use them for a full-day's trip to a nearby amusement park, beach or another local getaway. One day of pure fun will give you the boost you need for another week of hard work! Maybe even two!

4.) Take a road trip

With stacks of papers to write and exams to cram for, you might think that endless road trips are an impossible summer dream. Think again!

While you can't take off for a cross-country drive when you need to be in class early the next morning, you can still pack into the car with a bunch of friends and hit the road without neglecting your schoolwork. Just turn the trip into a study session! You can have one friend serve as "lecturer" by reading their notes aloud. You and your friends can audibly hear and absorb as you wind around impossible bends and past mountains or meadows. Alternatively, pop a recorded lecture into your car's MP3 player and let the words sink in as you cruise.
5.) Take time to chill
To avoid total burnout, squeeze some downtime into your daily schedule. Grab an early morning bike ride, take a quick jog after your classes or indulge in a stop at the local ice cream shop before tackling your homework. You'll be glad you did. Even if it's just a 10-minute break at the neighborhood park, those few minutes of airing out will give you the fuel you need to hit the books and keep going.

Your Turn: Have you ever taken summer classes? How did you stay on top of your work and still make time for summer fun? Share your best tips with us in the comments!
Financial Self Defense: Beware of WannaCry Ransomware
Financial Self Defense
Beware of WannaCry Ransomware
On Friday, May 12, an unprecedented virus spread through the internet, creating enormous damage and loss. The WannaCry ransomware, as it is called, attacked 57,000 computers in less than a day.

Ransomware works by holding a victim's data under "ransom." The virus encrypts the data and holds it hostage unless the victim pays a ransom, and the files are promised to be decrypted for the user.

The WannaCry virus demands a payment of $300 in exchange for decrypting infected files. If the victim does not pay within three days, the ransom doubles to $600. When seven days go by without payment, WannaCry deletes all the files.

By the following Monday morning, more than 200,000 systems worldwide were infected by the virus, with European countries being hit the hardest.

If your computer is infected, it's best not to pay the ransom. Instead, restore backup files to your computer or seek help from a professional. Paying up doesn't guarantee your files' return and it encourages attackers to infect your computer again.

Here are 5 steps you can take to keep your computer safe:

1.) Create a backup of your files

Invest in an external hard drive and make regular backups of your data. This will protect your files in case anything happens to your computer. You can also subscribe to a cloud backup service and regularly store your most important data. There are multiple free (to a limit) cloud services you can use, such as Google Drive, Apple iCloud or Dropbox.

2.) Use Microsoft's fix

Upon discovering that WannaCry spread through a weakness in Microsoft Windows, the software giant released a fix for the vulnerability. Protect your computer by using the fix to strengthen its code.

3.) Update your operating system

No one knows if there are any other weaknesses in Windows that can be exploited for another virus. It's important to update your OS to the most recent version, preferably to Windows 10, as soon as possible. The more updated your software, the less likely it is that it contains such vulnerabilities.

4.) Use a firewall

A strong firewall will prevent ransomware from accessing your computer. Since malware is always evolving, it's important to update your firewall on a regular basis to ensure protection from the most recent malware.

5.) Avoid suspicious websites and emails

It's easy for hackers to infect your computer. All they need is for you to click on a banner ad and - oops! Malware is installed and it can access you computer and all your files.

Following a link in an email can also infect your computer. When online, be on guard. Never visit suspicious-looking sites or click on ads that look shady. Don't download anything you can't explain or click on links found in emails from companies you're not familiar with.

No one knows when WannaCry will stop circulating, but it always pays to be careful. Take the necessary measures to protect yourself today.

Your Turn: What security measures do you take to protect your computer? Share your best tips with us in the comments!
Motherís Day On A Budget
Along with the blooming flowers and blazing sunshine comes the plans for celebrating Mother's Day. Our moms are always there for us, and now is when we show them how much we appreciate all they do.
However, between flowers, gifts, and dining out, Mother's Day costs can quickly add up. How do you keep within a reasonable budget while still showing Mom how much she means to you?
Fortunately, it's easy to save big while celebrating Mother's Day in style. Here's how:
1.) Frugal flowers
Nothing says "I love you" like a vibrantly colored bouquet, but those beautiful blossoms can cost a bundle. Save on Mom's flowers by doing some of the work yourself. Don't rely on the florist to provide the perfect base for the bouquet – bring your own basket from home or pick up a cheap but pretty vase at a craft or thrift store.
Also, consider shopping your local grocery store or sidewalk stand before visiting a florist. Significant savings – like a bouquet for as little as $10 – can be had by cutting out the middleman.
Lastly, if you are shopping at a florist, call first to find out when their flowers are delivered so you get the freshest of the bunch.
2.) Gift it right
Get creative! Mom would love something personally crafted by you, like a decorated framed photo of a shared memorable moment or a scrapbook of your best childhood memories.
If you'd rather purchase a gift, shop early so you don't feel pressured into buying something you can't afford. Also, carefully mine coupon sites like RetailMeNot, Coupons.com and Couponcabin to see if you can snag a deal.
3.) Dining out (or in) for less
Of course, celebrating Mom's special day isn't complete without sharing a wonderful meal. But restaurants can be expensive, so don't make reservations just yet! Maybe Mom would enjoy a home-cooked meal more than an evening out. You can whip up her favorite dishes, set the table royally and enjoy a delicious dinner at home.
Or throw together a family barbecue. Get the grill going for a delectable dinner that's fun to prepare and even more fun to eat!
If you've got your heart set on taking mom out to a restaurant, though, shop around for the best Mother's Day deals. And, of course, check sites like Groupon or LivingSocial before making reservations.
4.) Plan ahead
It's not too early to start thinking about next year's Mother's Day. Shop the post-Mother's-Day sales for fantastic deals on greeting cards, wrapping paper, and gifts for Mom.
It's worth the extra effort to save money on Mother's Day expenses. After all, no one will be happier to see you saving money than dear sweet Mom!
Your Turn: How do you celebrate Mother's Day on a budget? Share your best tips with us in the comments!
Go to main navigation