WHAT'S NEW
► 2nd Quarter Soaring Newsletter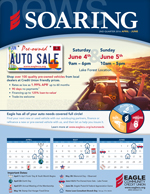 ►Ultimate Checking with IDProtect!

All Ultimate Checking account holders receive IDProtect.
JOIN EAGLE
Eagle Community Credit Union is a member-owned, not-for-profit cooperative credit union. For over 75 years, we've held a commitment to service excellence and member satisfaction. It's who we are. It's in our DNA. We have a rich history. We began as Orange County Postal Credit Union in 1937, and for many years we exclusively helped postal and federal employees build their financial futures. Today, we're a community credit union. That means that anyone who lives, works, worships, or goes to school in Orange County can become a member. But we continue to take pride and are honored to continue to serve our core postal and federal members.

Go to main navigation