Why is it asking for a secure access code?
The secure access code is a new security feature that uses your contact information on-file with us to verify your identity. To request a secure access code, single click on the delivery method you prefer which will be Call, text or Email if we have that on file for you.

You need a Secure Access Code for the following situations:
When logging in from a new computer or device for the first time.
When you use the forgot password tool to help reset your password.
When using a different browser on the same computer. Example using Internet Explorer and switching to Chrome. This would require a secure access code for each browser.
If you select "voice" delivery for a secure access code, please be aware your will receive a call from the credit union toll free number (800) 324-5328. You must accept this call and will be given the option to accept your 6-digit secure access code.
If for some reason you do not receive your secure access code delivery, please click the back button to return to pick a new secure delivery method. If you continually recieve the secure access code screen whenever you log in, it could mean your firewall, virus software or settings are setup to clear your browsing history after each session. If this is the case, it is up to you if you want to make changes, or live with this extra step. If you are still having issues, please call or email us at support@eaglecu.org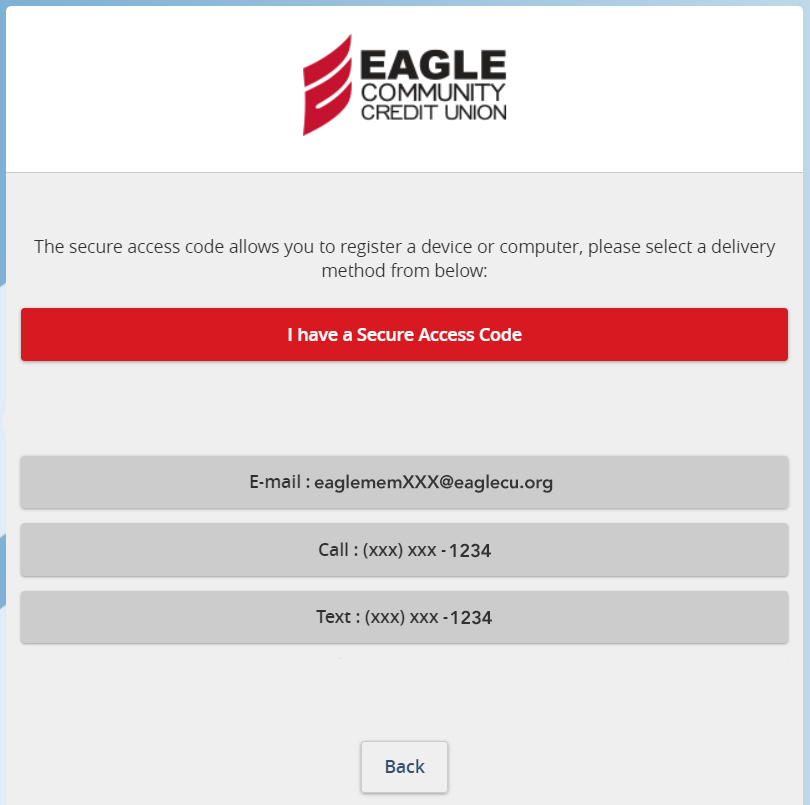 This answer has been viewed 3897 times.
Related Questions
Go to main navigation